Why you should upgrade your mask while traveling
Why do you need to upgrade your mask?
Due to the fact that the new variant of the virus is much more transmissible, we have to upgrade our protection system to multilayered masks that can block a higher percentage of particles from the air. People still don't know how ineffective cloth masks are after a certain amount of time. While there is no "bad" mask, some are better than others.
If you are traveling we would advise you to invest in better protection. Single-layer masks will protect you far less than quality-made masks. The problem with cloth masks and surgical masks is that they don't fit perfectly around the area of the mouth and nose and they don't block as many particles.
Even if you are completely vaccinated, the CDC advises wearing a mask in areas where there are a lot of COVID-19 infections, which is almost everywhere in the US right now owing to the highly contagious Omicron variant.
Why regular masks are not enough?
N95 and KN95 masks actually got the name after their 95% efficiency. For the comparison, the COVID-19 particle is around 0.1 microns in size – and you might think that this means that wearing a mask is not so effective, but the physics involved in this process doesn't work like that at all because the virus is always bonded to something larger – like aerosols or water droplets that are generated by sneezing, talking, breathing, etc. These are collected by N95 and KN95 respirator filters with very high efficiency. Another reason for this is the so-called "Brownian movement" – the physical phenomenon in which particles smaller than 0.3 microns move in zig-zag motions, enabling the chances to be caught by the mask.
N95 and KN95 masks
Particles in the air can get lodged in the respiratory system. These particles can be due to cigarettes, factory fumes, vehicle exhaust, etc. They could also be air-borne microbes. Over time, it puts stress on the lungs, the symptoms of which are various breathing difficulties. Sometimes, it can manifest into much serious health conditions such as asthma, bronchitis, and various other lung diseases. And while medical professionals such as those from Gwinnett Pulmonary Group can be consulted to find solutions in the form of medications and treatment methods, a change in lifestyle could also help. In this regard, masks with respiratory filters become extremely important for a variety of reasons. In fact, it could be more important for children in the growing stage than adults as their immunity system is still in the developing phase. Those really concerned about their and their baby's health can incorporate an adult or infant gas mask into their lifestyle as a precautionary measure.
Lots of users are concerned about what percentage of particles the masks capture – based on this metric, N95 and KN95 respirator masks are the same. Both masks are rated to capture 95% of 0.3-micron particles. N95 respirators are FDA-designated as a type of protective device that is designed to provide a close fit and effective filtration of airborne particles. These masks are manufactured of non-woven polypropylene fiber, which is strong and flexible; they're mainly circular, with a curvature near the top to assist in the concealment of your nose. The mask is kept in position by elastic strings that allow the mask to securely fit over the head. A valve is sometimes included in N95s to make inhaling and exhalation simpler but in fact masks with vents or exhalation valves are not advised because they allow the unfiltered breath to escape the mask.
N95 is ideal for use by first responders and health care workers. The mask should be labeled with the letters "N95." Keep an eye out for typos, as they could be fakes. According to Oklahoma's state health department, the distinction between N95 and KN95 respirators is where the mask is certified. N95s are certified in the United States, while KN95s are approved in China. According to the CDC, over 60% of KN95 respirators sold in the United States are counterfeit and do not meet NIOSH regulations.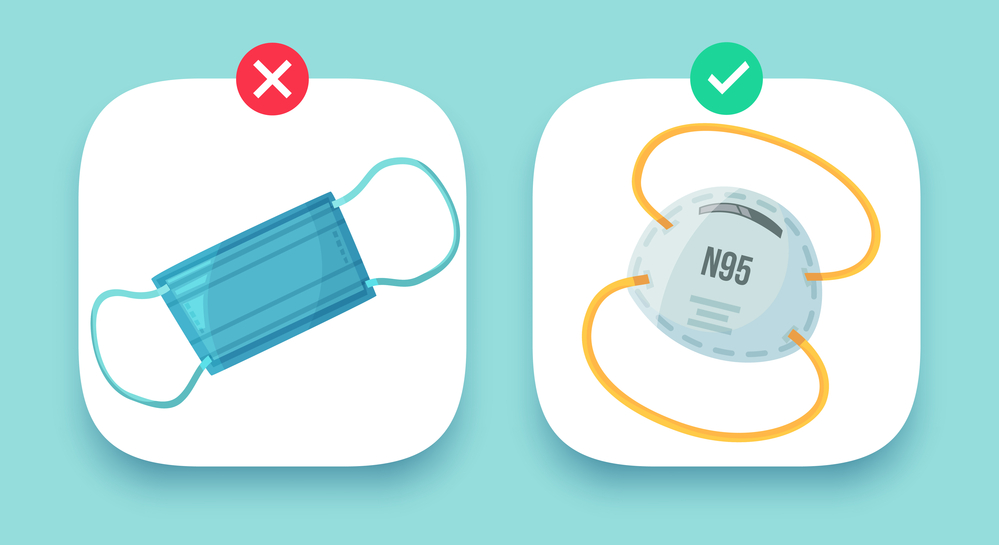 What if I can't find the N95 or KN95 mask?
Besides decreased filtration of cloth masks, one of the issues is also a loose fit that can let the virus escape from your mask and it can also allow them in. Increasing the number of layers (double masking) could improve filtration efficiency and it can apply better pressure to the inner mask for a better seal.
This week, @WhiteHouse announced that the U.S. Government is "making 400 million N95 masks from the Strategic National Stockpile available for free to Americans. N95 masks will be available for the public to pick up at tens of thousands of local pharmacies and health centers." The government will ship masks from its stockpile starting at the end of the week. Some will be available late next week, with more available in early February, according to NPR.
#BC
---
Sources: