What are the Transportation Predictions for 2019?
From hiring a luxury chauffeur car service through choosing the right flight for your business trip, transportation for corporate travel is essential. Business executives who travel from one country to another agree and are comfortable with the services that professional ground and air transportation deliver. This type of service keeps a good impression and lets them experience a luxury trip despite the fact of being exposed to stress and fatigue.

2018 was a momentous year for transportation policy and technology. Over the past 12 months, electric scooters have emerged as a last-mile solution, local governments have developed innovative new funding models, and the need for an overarching government transportation communications policy has grown stronger. In addition to these electric scooters, some governments have also been working to improve their railway systems for the public. The UK, for example, has been trying to improve its existing railway network as it is one of the most popular transportation methods in the country. In order to keep improving this network, the many rail companies in the UK are able to access websites like railbusinessdaily.com for the latest railway news to see when there are any issues or jobs available. This ensures that the UK's rail industry continues to grow, making it easier for people to get around. Railways are also a popular method of transport in a lot of other countries.
In this article, we will discuss some transportation predictions for 2019 that will significantly affect your business travel. Let us review the effects of these predictions:
Federal Policy-Based Service for Vehicles and Transportation Technology Firms
In 2019, many will be watching for government policy that could standardize the communication technology and government regulations that impact connected vehicles, be it from getting details from smart buildings to their own independent operation. The same is true of the state and municipal laws that regulate and define autonomous cars. Someone travelling across a single state might drive through different municipalities with conflicting rules for how autonomous vehicles can operate – an unworkable proposition if self-driving cars are to reach mainstream adoption. A set of new regulations, similar to the ones that govern highways and vehicle safety, would expedite the growth of autonomous vehicle technology for years to come. These types of vehicles have made their way into the mainstream because of the new ways they can revolutionize the vehicle industry. Torc Robotics is a company that is developing on autonomous vehicles for the population to hopefully end up using more and more.
Online Booking for Chauffeur Car Services
In 2018 the revenue in the segment of online booking in traveling exceeded $92.5 million. The experts predict the expanding of the digital travel space and consequently its turnaround up to 11,5 trillion in the following decade. It is very efficient for business executives to book their preferred chauffeur car service online because they will have a lot of time preparing for outstanding presentations and documents needed for their trip.
First and Last-Mile Solutions
Over the next 12 months, local municipalities will need to develop new policies to improve safety and mobility for bicyclists, scooter riders and pedestrians alike, while promoting multimodal transportation and improving access to public transit.
It is also possible that 2019 will bring about a major public-private partnership (PPP) in how consumers plan and pay for on-demand transportation. Eventually, these services could be brought under a single municipal app, which could provide a variety of transport options to get from point A to point B – such as riding a scooter to a train, then taking a train to a major hub, then taking another bike the rest of the way.
Voice Technology for Navigation
The human voice is the best and most effective means of communication and people want more convenience nowadays, whether it is getting some information, making a reservation or adjusting something in your hotel room. Today, different built-in mobile command navigation programs are accessible to every traveller, whether it takes place on land, water, or air. This particular kind of command system can help travellers to keep their trips safe and on-track for the business associates that they are about to meet.
Recognition Technology
The recognition technology, face recognition, in particular, has excellent potential for the industry of travel. The main spheres of the technology application are collecting data and identifying the personality of a traveller. It will allow the travel business stuff to provide their clients with personalised services, reward them for being regular customers and grant them access to the associated services. It may be a gym or a pool, in a hotel, an exclusive business lounge access from an airline, whatever.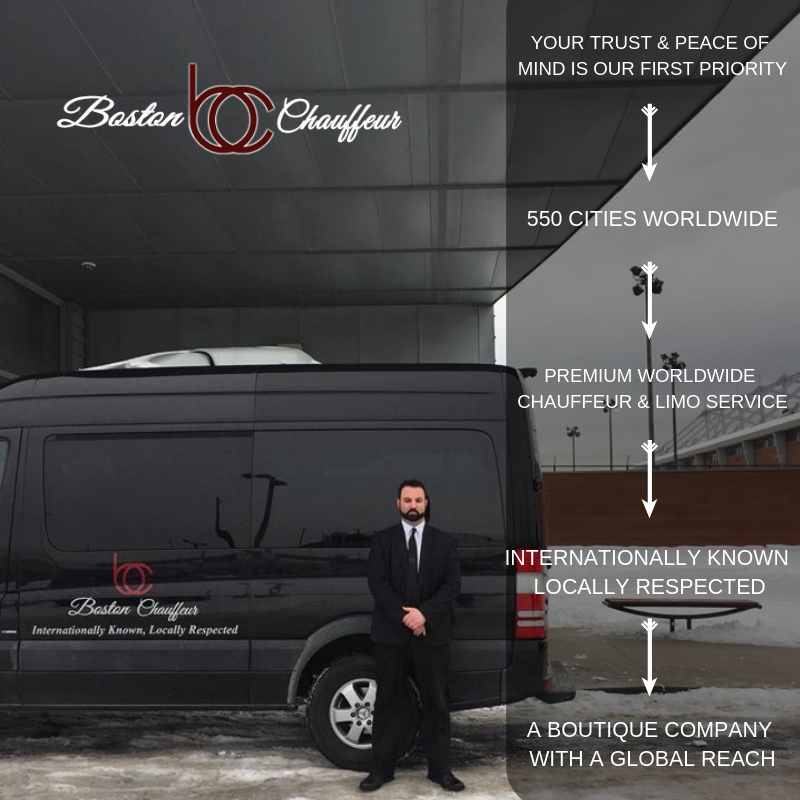 Boston Chauffeur provides ground transportation in major cities throughout the world. If you are looking for a corporate car service for your business travel, contact Boston Chauffeur today at 978-921-4334 or email us at info@bostonchauffeur.com to book the best service for your trip.
Source: Hyride