Uber and Lyft Headed for Big Changes at Logan
Uber and Lyft, the two ridesharing services offered at Logan International Airport, could cost riders more money and become less convenient if a Massport proposal to curb traffic congestion is adopted this spring.
According to Curbed Boston, the Massachusetts Port Authority would raise the pickup and the drop-off fees going to and from the airport from $3.25 to $5.
Another big change would be where riders would be dropped off and picked up by Uber and Lyft. According to Curbed Boston, the Massport proposal calls for pickup and drop-off areas inside two sections of the airport's central parking garage from just outside of the terminals. One area would be reserved for passengers of terminals A and E and the other area would be set aside for passengers from terminals B and C.
The news was well received by many limo drivers who often complain that having to share space with Uber and Lyft drivers at the terminal pick-up parking lots is difficult.  Uber and Lyft drivers also cause congestion when they drop off their riders curbside at the terminals.
The Massport proposal also shows the state agency is ready to take action to alleviate the traffic congestion caused by Uber and Lyft at the airport terminals. When ridesharing services first came to the Greater Boston area a few years ago, Uber and Lyft claimed they would alleviate congestion. A study published in July 2018 clearly dispelled that claim.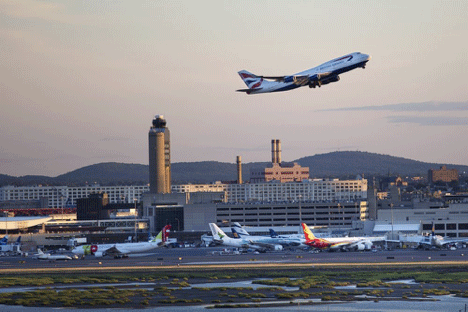 The Massport proposal also serves as another reason why business travelers in particular who currently utilize ridesharing should book their rides with a more experienced, safe and reliable corporate limo service instead.
Higher fees and less convenient drop off and pick up areas at Logan combined with all of the other ridesharing pitfalls of unreliable drivers, vehicles and oversight should make a strong case for companies when they consider their corporate transportation options.
When your company is ready to partner with a proven corporate transportation provider, Boston Chauffeur is ready to serve you.