The 'Quiet Skies' Program Update
"Quiet Skies" program: An update on a disquieting program.
The Quiet Skies Program Tracks, Observes Travelers In The Air
The Transportation Security Administration (TSA) has cut back on their controversial Quiet Skies program during which federal air marshals were shadowing and spying on unsuspecting air travelers as if they were terrorists — even though they were not criminals or did not appear on any watch lists.
The Boston Globe published their spotlight article in March criticizing the program. Since then, the TSA has reviewed their policies under pressure of politicians and privacy advocates.
Quiet Skies Back Story
According to a TSA bulletin published earlier this year, the program (which was yet to be disclosed) specifically targeted people who were not under investigation by any agency and who are not listed in the Terrorist Screening Data Base. Yet, federal marshals followed and reported on unsuspecting U.S. passengers.
The program is controversial not only because most of us didn't know about it — domestic travelers in particular — but because some federal air marshals claim that the Quiet Skies program is a waste of time and resources. Additionally, TSA administrator David Pekoske has acknowledged that Quiet Skies has not foiled any terrorist threats or led to any arrests. 
How Quiet Skies Program Works
All US citizens who enter the country are automatically screened for inclusion in Quiet Skies — their travel patterns and affiliations are checked and their names run against a terrorist watch list as well as other databases, according to the TSA.
The Globe article disclosed that domestic passengers were targeted and tracked, sparking criticism of the program. The "TSA initially refused to acknowledge the program's existence when the Globe made inquiries last summer, and a senior agency official denied under oath that it collected intelligence on passengers in the airport. The TSA eventually admitted it was operating the program following backlash from the public, federal lawmakers from both parties, and civil liberties advocates who questioned the program's legality," states the article.
The American Civil Liberties Union said after the program was revealed that it raises "a host of disturbing questions." Hugh Handeyside, staff attorney with the American Civil Liberties Union's National Security Project, said "The Quiet Skies program singles out people who have done nothing wrong and subjects them to intense scrutiny based on an untested, unreliable computer algorithm.: He added, "to call this program troubling would be an understatement."
Massachusetts Senator Ed Markey, said this past Monday that he is "pleased the TSA is now scaling back its collection of personal information about innocent Americans and their behavior. However, I continue to have concerns about the effectiveness and invasiveness of this program."
What The TSA Has to Say About The Quiet Skies Program
The TSA website criticizes the criticism they've received regarding the program, claiming that the media has inaccurately described the program as "surveillance of random travelers for no rhyme or reason."
They defended the program in August of this year stating that "Quiet Skies is another tool that allows the Federal Air Marshal Service to more efficiently deploy law enforcement resources to focus on travelers who may present an elevated risk to aviation security. Through TSA's Secure Flight Program and by leveraging Custom and Border Protection's Automated Targeting System, TSA's intelligence professionals develop a set of risk-based, intelligence-driven scenario rules, which allow us to identify international travelers who may require enhanced screening. These rules have strict oversight by the Department of Homeland Security, including the privacy, civil rights and liberties, and general counsel offices."
The TSA's statement doesn't change the fact federal marshals have collected and reported information on innocent U.S. travelers' common behaviors on planes and in airports since 2012.
Some of the behaviors that alerted armed undercover air marshals included using a phone, visiting the bathroom repeatedly, sleeping on flights, sweating heavily, chatting with others, changing clothes, facial expressions, and more.
List of observations made by federal air marshals (TSA documentation):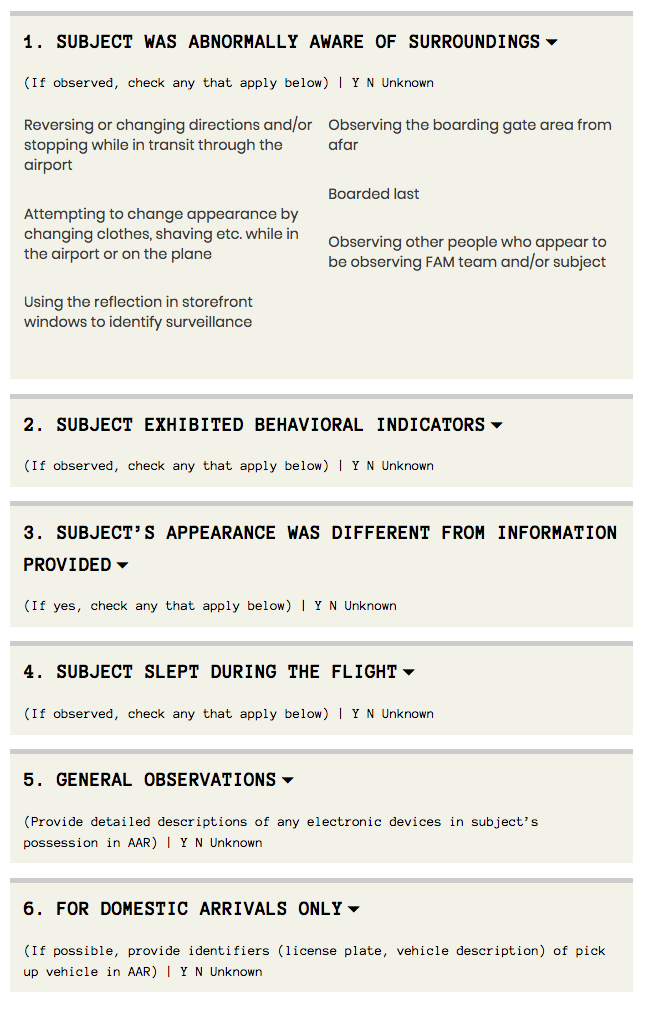 Status of the Quiet Skies Program
The program has been under review by the Department of Homeland Security's Office of Inspector General since August. TSA agency officials now tell the Globe that they no longer report on minor movements among air travelers, such as those listed above, and they claim to have "dialed back" the passenger monitoring program. TSA spokeswoman Jenny Burke said Monday, "The safety and security of travelers continues to be the number one focus of TSA; Quiet Skies continues to add another layer of security to achieve that mission." She said the agency will continually assess, adjust, and optimize the program to prevent air travel safety threats. 
Meanwhile, federal marshals will follow and monitor those they identify as persons of interest, but they are changing the threshold for reporting their observations to intelligence agencies — marshals will no longer submit action reports on individuals who do nothing notable on their respective flights.
TSA Administrator David Pekoske said that the system is designed to remove people from the program who do not arouse suspicion as quickly as possible, describing the task of watching for potential threats like finding a needle in a haystack. "We're interested in shrinking the size of that haystack, not increasing it," an air marshal said.
TSA Pekoske in September said that thousands of travelers have been followed since March. While nearly all were cleared, some were placed on the terrorist watchlist.
Questions remain about the purpose and effectiveness of this controversial program. The Department of Homeland Security's Office of Inspector General will continue its audit of the program's parameters and is currently investigating whistle-blower complaints related to the program, according to documents and several people with direct knowledge. Congressional oversight will continue as well to ensure privacy, civil rights, and civil liberties for travelers.
---
Sources: Boston Globe, TSA, NBC News
Boston Chauffeur is internationally known and locally respected for providing premium chauffeur and limo service in 550 cities throughout the world. Wherever you are, if you need a ride from a professional company that prides itself on service and satisfaction, we'll get you there.