The 7 Unique Travel Gifts For The Traveler On Your Gift List
Do you have a traveler on your gift list? Whether you are looking at top rated zipperless luggage bags or highly recommended travel accessories, you want to give them something they can use with them on their travels. Suppose your travel loving friend has gone camping somewhere in the mountains, or is visiting a snowy place, which they'll obviously do; it's a cold and windy night, what would they love to have on their person? A warm blanket, of course. Maybe one that also reminds them of home or the times they've spent with you, if you both are especially close. So, custom t-shirt quilt blankets are definitely a good option to consider, as it can keep them warm and bring up some good memories in every corner of the world. Apart from that, here are seven more unique travel gifts for travelers that we found on Amazon.com that you could have delivered in time for Christmas if you order soon.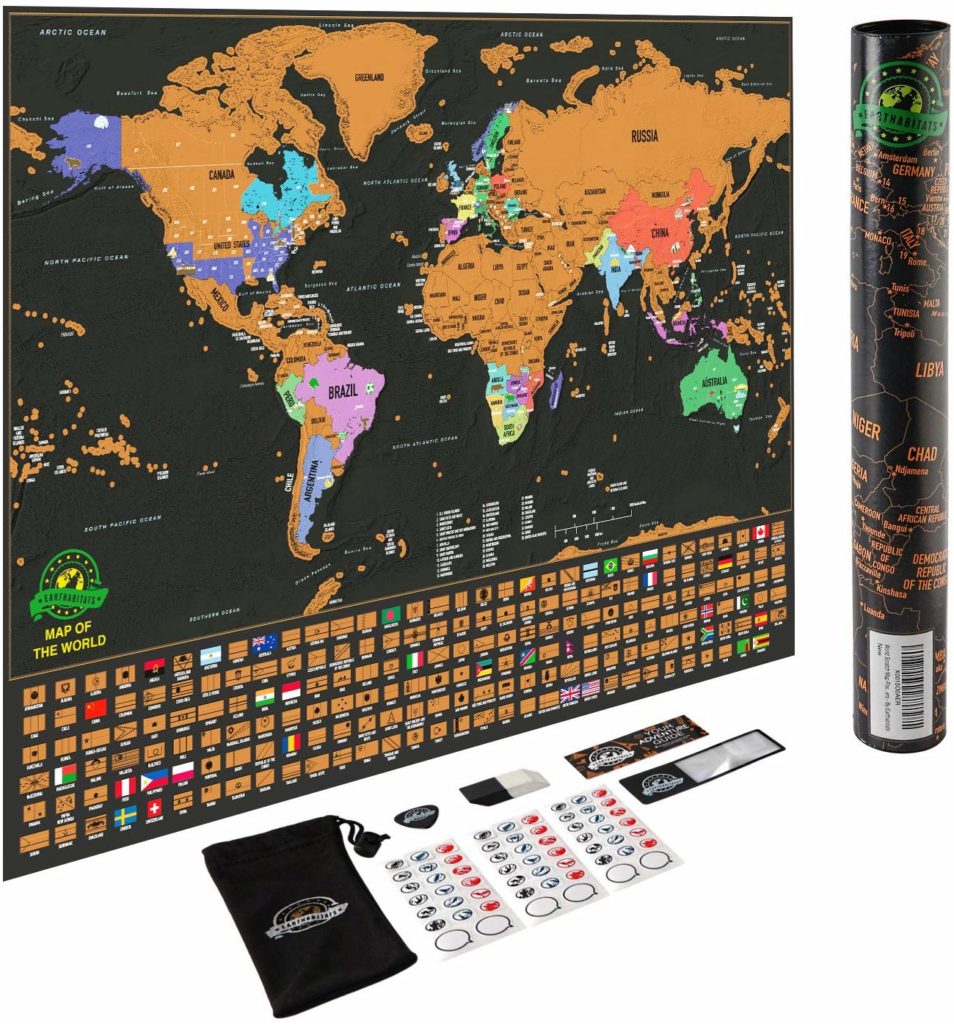 Scratch Off Map of The World

: (Shown above.) This Earthabitats Scratchable World Map is great for travelers who go across the whole world. It features vibrant colors, accurate cartographic details, country flags, and landmarks. Printed on thick art paper and protected with laminated finishing, and bundled with a set of accessories to mark travel memories. The map is also framable and could become a piece of wall art.

(Average customer review: 4 stars)

BASU eAlarm+ with Tripwire Hook

:This personal emergency alarm may help some travellers feel safer when going through more dangerous places. It's important that people look up safety tips before they travel to somewhere on their own – https://www.jackrabbitjakarta.com/solo-travel-5-tips-to-stay-safe/. The small sized alarm features an airplane approved battery, a "QuickTest" button to check the battery charge, and easy battery replacement. When in a dangerous situation, pulling the pin will cause a loud sound to be emitted.

(Average customer review: 4 stars)

Valourgo 35 oz Collapsible Water Bottle: A large bpa-free reusable travel water bottle that is also leak proof. The sophisticated bottle cap ensures the the bottle won't leak in your bag and spoil everything else inside. If you refill it after you pass through security, it could possibly save some money too. (Average customer review: 4.5 stars)

Phone Camera Lens, AOMAIS Pro Camera Lens Kit: This kit allows you to leave your heavy camera equipment at home when you travel. It is compatible with iPhone, Samsung, Google Pixel, etc. Lenses include macro and wide-angle lens with LED light, quick-release lanyard and travel case. (Average customer review: 5 stars)

YAMIU Packing Cubes 7-Pcs Travel Organizer Accessories with Shoe Bag and 2 Toiletry Bags: Organize your suitcase and keep your luggage neat and tidy. Accessories include 4 packing cubes, 1 shoe bag, 1 toiletry bag, a TSA approved toiletry bag, and a water-resistant shoe bag that's also suitable for your dirty clothes during travel. Available in a variety of colors. (Average customer review: 5 stars)

DEFWAY Passport Holder Travel Wallet: This travel wallet features RFID blocking technology, an important safety component that blocks thieves from scanning your personal information. The Universal Passport Wallet can hold two passports, four credit cards, boarding passes, coins, keys, cash, and documents. Amazon customer review: "Nice and neat passport organizer. Every time I traveled with my whole family( 5 people most of the time), I had to turned my backpack upside down and inside out to get the passports or cards, I am tired of the effect. We will travel to Sacramento next Sunday, and so glad I got this organizer for our trip! Love it!!!" (4.5 star rating)

TSA Approved Carry on Cocktail Kit: Designed to pair with single-serving spirits (not included), this kit includes a bar spoon, mix for two drinks, and rimming salt. You can also get a 50g amber leaf tobacco kit that you can roll to smoke and pair up with your cocktails. Just to let you know that this might not come with the kit and you would have to buy it separately. That said, a variety of mix choices are available, such as Bloody Mary and Champagne cocktail. For those 21 years of age and older. (Please drink responsibly.) Amazon customer review: "First – let's be realistic, this is purely an over the top extravagance. That being said the mix is delicious and the concept and ritual of preparing a delicious cocktail in your seat is awesome." (Average customer review: 4 stars)
Don't forget, there may be time to have these cool traveling gifts shipped to arrive before December 25th — but don't wait too long!
#Happy, Safe Holidays!
---
Disclaimer: This article is not an endorsement for the vendor or retailers listed. Products and products testimonials are those of Amazon.com and it's customers not Boston Chauffeur. The items are listed for information purposes only. Pricing is subject to change by the retailer.