Massport to Holiday travelers: Plan ahead!
The post Thanksgiving snow storm once again proves that traveling during the holidays — and in winter weather — make for an unpleasant traveling experience with delays and cancellations at airports.
Massport officials took a very proactive posture to deal with the estimated 1 million Thanksgiving holiday travelers who traveled  in and out of Boston Logan Airport as early as Friday, Nov. 22nd. Yet there were still a myriad of issues beginning December 1st with the usual return to home traffic and the arrival of snow.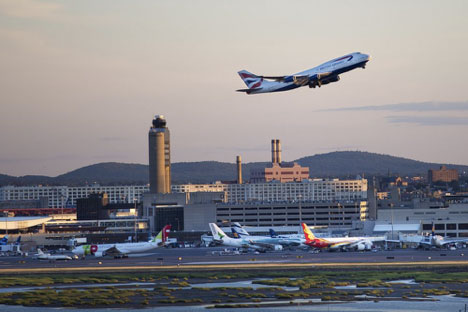 Prior to this latest storm, Massport CEO Lisa Wieland said, "We want to do everything we can to make travel as stress-free as possible for everyone flying in and out of Logan Airport this holiday season. This week is the start of the busiest time of year at Logan and we will have extra staff on hand to help passengers, but we encourage everyone to plan ahead to help ensure a smooth holiday travel experience."
According to Massport officials, AAA is predicting more than 55 million travelers nationwide are making plans to kick off the holiday season with a trip of 50 miles or more away from home this Thanksgiving. This will be the second-highest Thanksgiving travel volume since AAA began tracking in 2000, trailing only the record set in 2005. Nearly 5 million of those people will fly.


With 4.6% growth, air travel will see the biggest increase in travel volume during the Thanksgiving holiday in the areas they look at. Locally, the Wednesday before Thanksgiving, during 4:30-6:30 p.m., is expected to be the worst driving time. AAA recommends drivers leave earlier or much later, and use travel websites and apps to plan your trip.

Here are some of the most important things air travelers need to know leading up to the Thanksgiving holiday weekend:
People should use public transportation as much as possible including the Blue and Silver MBTA lines, Logan Express, private buses, limos and taxis. Water transportation is also available via the MBTA ferry and water taxis. Passengers who take water transportation to Logan will receive a Ticket to Skip to the head of the security checkpoint line.




Uber and Lyft riders need to go to the ground level of the Central Parking garage to be picked up. All Ride App dropoffs between 4 a.m. and 10 a.m. have moved to the lower level terminal curbs.



Logan Airport will begin issuing text alerts to customers in an effort to reduce traveler's stress and improve communication with passengers during the ongoing construction and changes at the airport. Passengers can also choose to sign up for email alerts on 

LoganForward.com 

if preferred.

Passengers can text "SIGNUP" to 30256 from their phone to begin receiving text alerts from Logan Airport. Standard messaging and data rates may apply.  Once signed up, passengers will be alerted of disruptive construction and traffic impacts at and around the airport, including: roadway changes and closures, detours, major delays.




Massport officials urge travelers to use several apps and websites to decide what transportation options are available and how long the trip should take. The MBTA's Trip Planner website and MassDOT's Go Time app are two tools to consider.




If you plan on driving, consider traveling at off-peak hours such as early mornings or late evenings after 9 p.m. Traffic volumes will progressively increase throughout next Tuesday and Wednesday, as well as that Saturday and Sunday as travelers are returning home. Plan ahead and make informed choices by utilizing real-time technology tools like 511 or MassDOT's GoTime app to view live traffic conditions to find the best route and timing of travel.
Flying out of Logan this season? Be prepared, checkin with your airline, and allow extra time for travel to and from the airport. If you prefer, we can get you there — and you won't need to clean snow and ice off your car or deal with driving through the traffic. We check road and airport conditions prior to your scheduled ride and adjust time accordingly. Your driver will arrive early enough to ensure you get to the airport ontime. 
Happy Holidays and safe travels everyone!