5 Places to Watch the Solar Eclipse in 2019
This year's total eclipse of the sun will occur on July 2, 2019, over the South Pacific Ocean, Chile, and Argentina. Other parts of South America will be able to see a partial eclipse. Most of this eclipse will be happening over the Pacific Ocean, where the partial eclipse starts at 12:55 p.m. Eastern Daylight Time.
This total solar eclipse will have a longer duration than last year's total solar eclipse, with totality lasting up to 4 minutes and 33 seconds. However, this maximum duration may be visible only to observers on a few boats and airplanes, because it will be happening over the Pacific Ocean.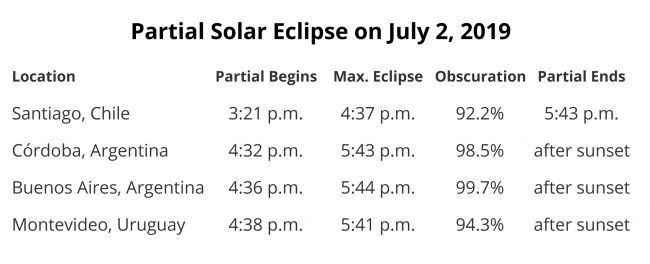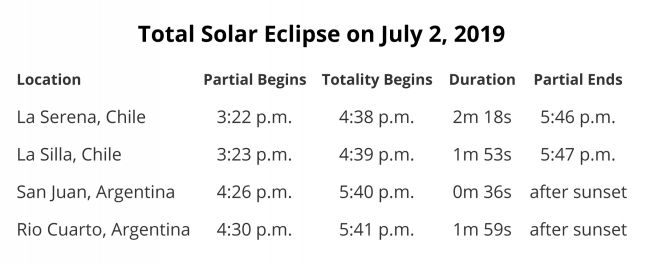 A solar eclipse is a rare event—not just on Earth, where a total eclipse only occurs in the same location once every century or so, but also in the whole universe. Thanks to the relative size and distances of both the sun and the moon, the fact that we can experience an eclipse at all is a cosmically improbable coincidence. So, if you're feeling bad for missing a chance to watch 2017's solar eclipse that spanned across the U.S.
There won't be another eclipse in the U.S. until 2024, when the path of totality will swing from Mexico through Texas and all the way up to Nova Scotia. But if you can't wait that long to appease your eclipse-envy, consider taking a trip to Chile and Argentina this July.
These are the best places to watch the eclipse in South America:
The next total eclipse for North America will occur on April 8, 2024. Although it appears that eclipses are rare, they're not. They happen about every 18 months as seen from somewhere in the world. In addition to total eclipses, there are other sorts of eclipses. Partial and annular, or ring, solar eclipses also take place, as do eclipses of the moon. Some almost certainly will be visible from your location in the next few years.
---
Boston Chauffeur provides limo and car service in 550 cities worldwide. When you book your ground transportation with us, we'll make sure you make all your connections no matter where you are in the world. Call 978-921-4334 to get to where you need to go.
Sources: Smarter Travel Author: Jamie Ditaranto; Space.com