4 Things You Can Expect When You Hire a Top-Notch Luxury Car Service
Hiring a luxury car service to drive you to and from an event or a gathering held during a special occasion, can either the most rewarding experience or a terrible one; depending on the quality of the service in question. With dozens of factors to put into consideration, as well as the number of limo services to choose from, it can become more trouble than it's worth, especially if you don't know what you can expect from a top-notch luxury car service. It's always important to take some of these considerations below and apply them to your research into various limo companies similar to this Moonlight Limo Service NJ and others available for hire across the USA.
What to Expect when Hiring a Luxury Car Service
To that end, following is a comprehensive list of all the specifics you can expect when hiring a limo service.
It is a given that when you would want to hire a luxury car service, you would want to opt for a top ranking wedding transportation. For events such as a wedding, prom, quinceanera, etc., you will be looking for a certain degree of comfort on your travel via limo. But if you are hiring limo services that specialize in providing the utmost comfort to the client, you can expect nothing but the best, in terms of ride comfort and necessary amenities.
Luxury car services, such as ours, Boston Chauffeur, specialize in providing class-leading comfort to passengers, making sure that the journey is well and truly as wonderful as it can be.
Convenient Pick-Up and Drop-Off
While any limo service will include a convenient pick-up and drop-off option, with the best luxury chauffeur car services, you can expect that to be a given. A convenient pick and drop would mean that you will be picked up by the driver at the exact time, to the minute, by the personal driver, and dropped off to your destination of choice exactly when you want to arrive. Not to mention, all of that will be done while being enveloped in top-of-the-range luxury, such as that offered by us.
A luxury car service, especially one that caters to the most discerning of passengers, will have a vast range of services on offer. They will cater to a number of occasions and offer various transportation types, as well as trip planning, while providing passengers with a luxury vehicle that is most convenient for the size of your party and that has everything they could need on short and long trips.
From highly professional chauffeurs to the concierge, you can expect nothing but the epitome of professionalism when you hire top-notch luxury chauffeur services. Qualified licensed limo agencies seem to have GPS trackers, limo insurance, and other similar safety protocols that differentiate them from other companies that provide similar services. A luxury car service such as Boston Chauffeur not only conducts regular security checks on the driver staff but also makes sure that the passenger gets the best, most professional level of service for their journey, no matter how short or long it is.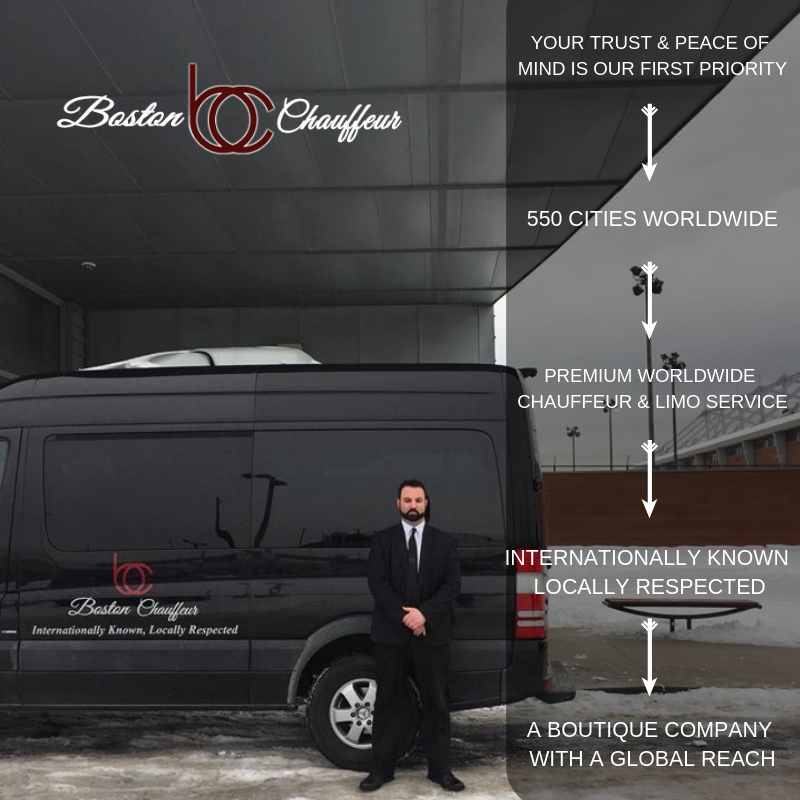 Boston Chauffeur provides limo and car service in 550 cities worldwide. When you book your ground transportation with us, we'll ensure that you make all your connections, no matter where you are in the world. Call 978-921-4334 to get to where you need to go.